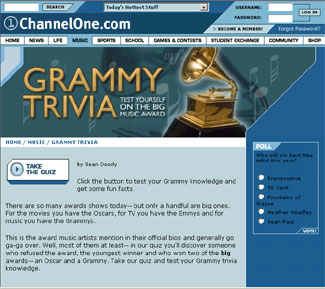 Grammy Trivia
Test yourself on the big music award


By Sean Doorly

There are so many awards shows today -- but only a handful are big ones. For the movies you have the Oscars, for TV you have the Emmys and for music you have the Grammys.

This is the award music artists mention in their official bios and generally go ga-ga over. Well, most of them at least -- in our quiz you'll discover someone who refused the award, the youngest winner and who won two of the big awards -- an Oscar and a Grammy. Take our quiz and test your Grammy trivia knowledge.
1. Who was the youngest person to win a top Grammy award?
Alicia Keys
LeAnn Rimes
Billy Gilman
Britney Spears

LeAnn Rimes won the Best New Artist award in 1997 and she was only 14-years-old.

2. Who won the Best New Artist award in 2000?
Britney Spears
Christina Aguilera
Macy Gray
Kid Rock

In this pop princess battle, Christina Aguilera was crowned the winner at the 42nd Grammy Awards. Fun fact: Earlier that

year, Christina Aguilera, Britney Spears and Marc Anthony announced the nominations at the Beverly Hilton Hotel.

3. This year the Grammy Awards will be held in Los Angeles-- where were they held last year?
Chicago
Nashville
New York
Los Angeles

The 45th Grammy Awards were held at New York's Madison Square Garden on Feb. 23, 2003. This was after a four-year hiatus from the Big Apple. The Grammy people and then-New York Mayor Rudolph Giuliani had a highly public feud in 1998, which drove the awards show back to Los Angeles. Prior to that, the show alternated between the two music meccas.

4. How many awards did Norah Jones walk away with at the 45th Grammy Awards?
Three
Four
Five
None

Norah Jones won a total of five awards including Best New Artist and Record of the Year. Fun fact: Sheryl Crow and Christopher Cross are the only other artists to win those two top awards in the same year.

5. Which double-threat has won both a Grammy and an Oscar?
Will Smith
Eminem
Madonna
Jennifer Lopez

His name is Eminem and he has won seven Grammy Awards and an Oscar for Best Original Song in 2002 for "Lose Yourself" from the movie "8 Mile." Fun fact: Jennifer Lopez was the first female artist to have a No. 1 movie (The Wedding Planner) and album (J.Lo) in the same week in 2001.

6. Which group has never won a Grammy?
Led Zeppelin
Jimi Hendrix
The Doors
None of the above

Surprisingly none of these iconic rock groups has won a Grammy award. Even the king himself, Elvis, only won for his gospel music-- he never nabbed one of the top awards.

7. Who is the only artist to refuse a Grammy?
Pink
Sinead O'Connor
Marlon Brando
Ozzy Osbourne

Sinead O'Connor declined to accept the award for Best Alternative Music Performance for "I Do No Want What I Haven't Got" in 1990. Another famous "decliner"-- but for another award-- is Marlon Brando, who in 1972 turned down the Best Actor Oscar

for his portrayal of Mafia boss Don Corleone in The Godfather.

8. In what year were Best New Artist winners Milli Vanilli stripped of their awards?

1980
1988
1989
1991

Milli Vanilli were stripped of the Best New Artist award in 1989 after it was discovered the duo did not sing on its recordings.

9. The most wins in the Best Rock Duo or Group Performance category goes to:
The Who
U2
Aerosmith
The Rolling Stones

In this category, U2 has won a total of five times. Fun fact: Legendary Brit rockers and instrument-smashers The Who never won a Grammy award.

10. In 1988, who beat Metallica for the Best Hard Rock/Heavy Metal Performance award?

The Grateful Dead
Jethro Tull
Iron Maiden
Def Leppard

That dubious honor belongs to Jethro Tull famous for songs like "Aqualung" and "Thick as a Brick," filled with mandolins and flutes. The Grammy folks created the category in 1988 to acknowledge the burgeoning metal music scene. Metallica were the favored band to win and Jethro Tull had to endure boos and hisses when they accepted the award. Don't feel so bad for Metallica-- they have snce won six Grammys.